Cho Seung-hui
I know, the anniversary was 16th April, but at that time, I was thinking about Columbine, hence, I think now is the great time to post something about the deadliest shooting that happened in 2007, by a senior student by the name of Cho Seung-hui.
Taken from NPR:
The shootings at Virginia Tech in Blacksburg, Va. — the deadliest shooting rampage in U.S. history — left 33 people dead. Police have identified Seung-Hui Cho, a 23-year-old English major from Centerville, Va., as the gunman; he was among the dead. The killings began at 7:15 a.m. on April 16; a timeline charts key events in the day's tragedy.
Monday, April 16, 2007
7:15 a.m. — Virginia Tech police respond to a 911 call from West Ambler Johnston Residence Hall, where a man and woman have been shot and killed. Police establish a safety perimeter around the dorm.
7:30 a.m. — After interviewing witnesses, police believe the double homicide stemmed from a domestic dispute and was an isolated incident. They also believe the gunman has fled campus and are following up on leads concerning a person of interest in relation to the killings.
8 a.m. — Students begin their first classes of the day. Word of the killings begins to spread among students via text messages and cell-phone calls.
8:25 a.m. — Virginia Tech officials, including the university president, executive vice president and provost, meet to assess the situation and decide how to notify staff and students.
9 a.m. — Campus police Chief Wendell Flinchum briefs university officials on the investigation.
9:26 a.m. —
School officials send out the first
e-mail
notifying staff and students to the killings at West Ambler Johnston Residence Hall.
Off campus, police interview a person of interest in the first shooting, whom they do not arrest. While they are speaking with him, the second attack starts at Norris Hall.
9:45 a.m. — The campus police respond to a 911 call about a shooting at Norris Hall, an engineering building, where the front doors have been chained shut from the inside. The police break in and hear gunshots coming from the second floor. When they get upstairs, the gunshots stop, and the officers find the gunman has killed himself.
9:50 a.m. —
Virginia Tech officials send a second
e-mail
, warning students that a gunman is loose on campus. They ask everyone to stay inside and away from the windows until further notice.
10:16 a.m. —
A third
e-mail
from university announces that all classes have been canceled. It also advises people on campus to remain behind locked doors and for those who are not on campus to stay away.
10:52 a.m. —
University officials send another
e-mail
saying that a number of people have been shot inside Norris Hall. They repeat earlier warnings to stay inside.
12 p.m. — At a news conference, Virginia Tech police Chief Wendell Flinchum says 22 people have been killed.
4:30 p.m. — University President Charles W. Steger and Flinchum, the campus police chief, confirm that 33 people are dead, including the gunman. They say they will not announce the names of the victims until their families are notified.
Compiled from NPR staff reports, the Virginia Tech web site, press conferences and the Collegiate Times.
Additional Info from ABC News, a day after the shooting:
Seung-Hui Cho, the student who killed 32 people and then himself yesterday, left a long and "disturbing" note in his dorm room at Virginia Tech, say law enforcement sources.
He also wrote at least two violent plays for an English course that worried his professor and several classmates.
Sources described the note, which runs several pages, as beginning in the present tense and then shifting to the past. It contains rhetoric explaining Cho's actions and says, "You caused me to do this," the sources told ABC News.
Sources say Cho, 23, killed two people in a dorm room, returned to his own dorm room where he re-armed and left the note, then went to a classroom building on the other side of campus. There, he killed 30 more people in four classrooms before shooting himself in the head.
Witnesses say he was stone-faced as he opened fire. Law-enforcement sources say he may have had a romantic interest in a young woman who was found dead after the first shootings.
Violent Plays
Lucinda Roy, a co-director of the creative writing program at Virginia Tech, taught Cho in a poetry class in fall of 2005 and later worked with him one-on-one after she became concerned about his behavior and themes in his writings.
Roy spoke outside her home Tuesday afternoon, saying that there was nothing explicit in Cho's writings, but that threats were there under the surface.
Roy told ABC News that Cho seemed "extraordinarily lonely--the loneliest person I have ever met in my life." She said he wore sunglasses indoors, with a cap pulled low over his eyes. He whispered, took 20 seconds to answer questions, and took cellphone pictures of her in class. Roy said she was concerned for her safety when she met with him.
She said she notified authorities about Cho, but said she was told that there would be too many legal hurdles to intervene. She said she asked him to go to counseling, but he never did.
One play attributed to him, called "Richard McBeef," describes a 13-year-old boy who accuses his stepfather of pedophilia, and ends with the boy's death.
In another, called "Mr. Brownstone," three high-school students face an abusive teacher.
"I wanna kill him," says one character.
"I wanna watch him bleed like the way he made us kids bleed," says another.
The two plays were posted on AOL after a staffer named Ian MacFarlane, a December 2006 graduate of Virginia Tech, brought them to his editors' attention.
MacFarlane said he was in a class with Cho in which students were required to post their plays online for peer review and comment.
AOL editors verified the authenticity of Cho's works before posting them, according to Alysia Lew of AOL Corporate Communications.
At a late-afternoon news conference, police said they had searched Cho's dorm room. "There were considerable writings that were reviewed," said Col. Steven Flaherty, Superintendent of the Virginia State Police.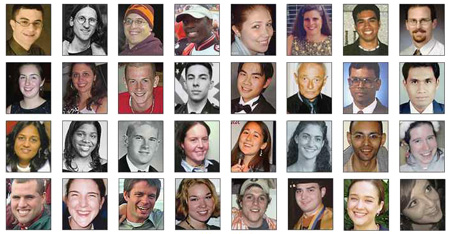 the victims