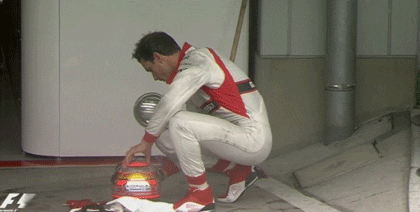 the most iconic gif of Jules, where he wiped his helmet during race stop.
It is a sad sad day for the world of Formula One and Motorracing. Jules Bianchi, a rising star, died from a injuries of a crash he had in Japanese Grand Prix, Suzuka, October last year. The crash happened only days prior to my birthday. So it doubled up the sadness I had.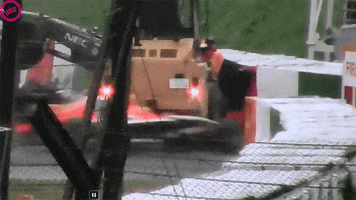 the Jules Bianchi Suzuka Crash
I had blogged last year about Jules Bianchi woke up - he was actually out of his artificial induced coma, and could breath unaided - he wasnt waking up completely. He never did.
He had diffused axional injuries, if i am not mistaken (refer his
wikipedia
page) - that was the injuries he sustained from the horrible crash with the tractor which was clearing the track off Adrian Sutil's car. Adrian Sutil crashed at the same corner, but he crashed to a cushioned, tyre-lined concrete wall, if i am not mistaken, but Jules was unlucky, and he crashed onto the tractor which moved Adrian Sutil's car out of the way.
My prayers are with your families and loved ones, Jules. To your friends and everyone who knew you personally, be strong. I am just a fan whom Jules had no knowledge I had existed, but I felt the burden of losing him.
I also had blogged earlier, and had numerous tweets about him. I blogged about the tribute to Jules Bianchi, which I had hoped when he woke up from his coma, he could open the page and view all those tribute they made for him on the next race after Japanese Grand Prix last year. But he never had a chance for it. We had lost him. We had lost a fighter. We had lost a racer, a great one. He could've been a winner, but God loves him more. God wants him by His side. And who are we to deny it?
I had tweeted, mentioning him, everytime i felt like missing him. And now, I will miss him more, now that i know he was no more. Now that I know i never had an opportunity to fulfill my number 17th on my bucket list - meeting Jules Bianchi in person. You'll be sorely missed. I know it, because I already miss you now, Jules. Even though I never knew you personally.
I hope you're happy there now. I hope your family and loved ones are strong to get through the days without you. I hope they get their chances to say goodbye, like how I cant. But this is it. This is my goodbye to you, Jules. Goodbye.
Oh, and your smiles always soothes me. Whenever I am stressed, I could just play some gifs where you're smiling and I'll be relaxing. Whenever people asked whose smile I like the most, I wouldnt say Fernando Alonso's or Nico Hulkenberg's. Jules' smiles is the second in the rank, after my mother, and before my future husband (whom i have yet to know his identity, but i hope he ranks above Alonso and Hulkenberg - I wouldnt worry he outrank Jules, because he never will).
Here are the Gifs I found online. To remind us what a great person who had lived on this earth. To remind us what a happy person he was. To remind us what a kind person we lost. To remind us what a potential he had. To remind us of a life he had, living the dream as a formula one racer.
Look at him hiding his red bull can, probably as an attempt to not offend his sponsors :')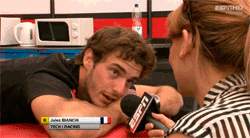 Rest In Peace, Requiescat in Pace, Jules Bianchi.

We will always remember you. We will always miss you. Our love for you will never fade.
You will forever in our hearts.
The warmth of his smiles will always haunt me. In a good way.
p/s: I hope, after this, there will no more racers to die of Formula One race crash injuries. We had hoped for this after late Ayrton Senna (peace be with his soul), but Jules Bianchi (peace be with his soul too) happened. I dont think the safe cockpit design for formula one is hideous. I think it is great. and safe.
And JB also stood for Jenson Button, so JB17 always meant Jules, while JB22 meant Jenson. Just Saying.